newsong
Guest

Art katz Apostolic Foundations
« Thread Started on May 18, 2006, 4:27am »

---

I had the privledge to attend 5 meetings that Art Katz had here in London 5- 7 May. He is 77 years old and such a humble man of God. God uses him mightily as a catalyst; you either love him or hate him! I loved what he said.. challenging, convicting powerful and transcending into the heavenlies. God has used him to impact my life; to shake off all that is not of God and to be used of Him how he chooses.. Those that know God and fear him will do mighty exploits. He is a man thats speaks life! This book is a must read!!! and can be downloaded for free from www.benisrael.org " Apostolic Foundations" (The challenge of living an authentic Christian Life). In these last days we must have that word from God that brings forth life to that which is dead!
He spoke about honouring those in authority as Shem covered His father (thats another topic) also about the churches role in the end times in the salvation of the Jews and about early morning devotions, the importance of that. Hearing from God and dying to self completely.We must bring that which God gives us, against all odds ,all for His Glory.
Read chapter 4, Apostolic Proclamation - The Mystery of Preaching!! but the whole book is a must read! I know this will challenge most who read it but also will set you on fire!! More than you are now if you are already on fire!
Enter into the Holy of Holies!
Jesse Morrell
Administrator


Open Air Preacher
member is offline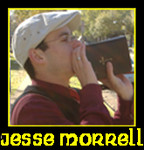 Colossians 1:28





Joined: Jul 2005
Gender: Male


Posts: 7,066
Location: USA - Traveling Preacher

Re: Art katz Apostolic Foundations
« Reply #1 on May 18, 2006, 9:51pm »

---

I have not read any of Art Katz books yet, though he is one of my favorite speakers. He is anointed and has powerful messages. His preaching always touches me.

---
newsong
Guest

Re: Art katz Apostolic Foundations
« Reply #2 on May 19, 2006, 8:33am »

---

All or most of His books are FREE to download from above website! (Online Books) All crucially relevant for these last days. Not always accepted!! I have read The Spirit Of Truth, which had me in tears and on my knees. And the above one just finished! Real resurrection life words from God!
josefurban
Guest

Re: Art katz Apostolic Foundations
« Reply #3 on May 20, 2006, 10:12am »

---

I would reccomend this as well, along with "True Fellowship" and "The Prophetic Call". They're all free from benisrael.org.